Saturday, July 31, 2004 "Why don't they get new jobs if they're unhappy -- or go on Prozac?" - Susan Sheybani (assistant to Bush campaign spokesman Terry Holt), regarding American workers unhappy with low-quality jobs

Compassionate conservatism at its best... posted by someone bearing a striking resemblance to Paul | 1:41 AM |
---


Friday, July 30, 2004
College football is almost here! Hurray!!!!!!

On the strength of last December's drubbing of Virginia Tech in the Insight Bowl, my beloved alma mater Cal has earned a #15 ranking in the USA Today pre-season coaches poll, which is an extreme rarity for the Golden Bears (a west coast media poll also predicts Cal finishing #2 in the conference; if that happens, we'll definitely be in line for a prestigious New Year's Day bowl appearance). Not only did three Pac-10 teams rank in the top 25, but another six placed in the also receiving votes category (the only team not making the cut are those suck-asses Stanford. Go Bears!!). I'm not much of a sports statistician or historian, but if this isn't a Pac-10 first, it's certainly a Pac-10 first-in-a-long-long-time. September 4th, Cal at Air Force. I can hardly wait!

1. Southern California (Boo! Hiss! Retch!!)
2. Oklahoma
3. LSU
4. Georgia
5. Miami (Fla.)
6. Florida State
7. Michigan
8. Texas
9. Ohio State
10. Florida
11. West Virginia
12. Iowa
13. Kansas State
14. Tennessee
15. California (2nd highest ranked Pac-10 team! We rock!)
16. Clemson
17. Missouri
18. Auburn
19. Virginia
20. Maryland
21. Utah
22. Wisconsin
23. Minnesota
23. Purdue
25. Oregon

Also receiving votes

Nebraska, Oregon State, Boise State, Washington State, North Carolina State, Louisville, Virginia Tech, TCU, Oklahoma State, Toledo, Memphis, Georgia Tech, Notre Dame, Bowling Green, Brigham Young, Miami (Ohio), Fresno State, Michigan State, Pittsburgh, Marshall, Alabama, Arkansas, Boston College, Northern Illinois, San Diego State, Colorado State, Mississippi, UCLA, Texas Tech, Hawaii, Texas A&M, Southern Mississippi, Penn State, Air Force, Arizona, Arizona State, Connecticut, New Mexico, Washington posted by someone bearing a striking resemblance to Paul | 10:43 PM |
---


Thursday, July 29, 2004 Ok, I admit it. I'm a shallow guy. But I'm certainly not gonna elect a President based on the hotness of his daughters. However, if I were to (in my be-as-shallow-as-I-want alternate universe), Kerry would still be my man.

Barbara & Jenna Bush

Vanessa & Alexandra Kerry


Then again, by this token, Al Gore should have had the last election...

And going off in a completely random direction, a Simpsons character may be coming out of the closet in the near future...

"Simpsons": A Gay Old Time
Tue Jul 27, 1:15 PM ET
By Josh Grossberg

A Simpsons toon is coming out of the closet. Not that there's anything wrong with that.

Speaking during a weekend panel at San Diego's Comic-Con convention, show producers dropped a bomb: An upcoming Simpsons story line will focus on what happens when Springfield legalizes gay marriage.

"We have a show where, to raise money, Springfield legalizes gay marriage," producer Al Jean told comic book fans. "Homer becomes a minister by going on the Internet and filling out a form. A longtime character comes out of the closet, but I'm not saying who."

And with that, Simpsons aficionados got their gaydar on and began winnowing down the list of potential suspects.


The early favorite appears to be billionaire Monty Burns' ever-devoted sidekick, Waylon Smithers, who--aside from being a yes-man--has been known to collect Malibu Stacy dolls, lives in the gay part of town (where Homer once shacked up with two gay guys), has a Mr. Burns screensaver and dreams of a naked Mr. Burns jumping out of a birthday cake.

But that might be too easy. According to online fan scuttlebutt, there are other characters who might be secretly having a gay old time in Springfield, including Homer's regular-guy cohorts at the nuclear plant, Carl and Lenny, as well as Moe the bartender, the Reverend Lovejoy, Principal Skinner and Comic Book Guy. Of course, the producers didn't rule out a lesbian wedding, either.

"It's Homer!" said a joking Simpsons creator Matt Groening to conventiongoers.

The gay marriage-themed episode is scheduled to air in January.

While the coming-out comments generated the most interest, the show's brain trust also outlined some other upcoming plots. For instance, Springfield residents will also have a cow over corrupt Mayor Quimby and seek to recall him from office--a riff on California recall election in which Arnold Schwarzenegger defeated then Governor Gray Davis. No word whether The Simpsons' Ah-nuld look-alike, Rainier Wolfcastle, will be leading the effort to replace Quimby.

Meanwhile, celebs expected to lend their voices to the show next season include Kim Cattrall, Ray Romano, James Caan and rapper 50 Cent.

Groening also addressed the long-talked about Simpsons animated movie. He said that plans are still underway, but work on a big screen version won't begin until the tube series takes its final bow.

That could be awhile.

Now heading into its 16th season, The Simpsons is still posting solid ratings and consistently ranks number one in its Sunday time slot for adults 18-49, the category coveted by advertisers. It has also become the longest running comedy series on the tube and has spawned a billion-dollar franchise for Fox, which after some protracted negotiations, agreed to a new four-year deal with the show's six stars that gave each of them a whopping pay raise to $250,000 per episode.

Plenty of d'oh, indeed. posted by someone bearing a striking resemblance to Paul | 12:43 AM |
---


Tuesday, July 27, 2004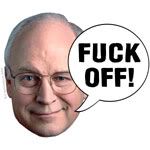 QUICK!! Call the decency police! Potty mouth Teresa Heinz Kerry told a reporter to "shove it"! Has that woman no shame? What kind of example is she setting for our nation? You would never hear such filth from the mouths of our moral, upstanding, God-fearing Republican leaders. Could you just imagine our President calling a reporter a "major league asshole" or our Veep telling a United States senator to "fuck off"? Heavens to Betsy, no!

Hey! Wait a minute..... posted by someone bearing a striking resemblance to Paul | 5:19 PM |
---


Monday, July 26, 2004 "Politics is just show business for ugly people." - Jay Leno posted by someone bearing a striking resemblance to Paul | 11:08 PM |
---
I've noticed a fairly narrow focus in themes over my last few blogs: politics, movies, and food. There was a time when all I used to think about was sex. What's wrong with me?!? Is it contagious? posted by someone bearing a striking resemblance to Paul | 1:14 AM |
---


Sunday, July 25, 2004 I'm feeling a bit more chipper nowadays. It could be because the deal I'm working on is pushing forward, which means my friend and I are finally going to get some fees for the work we've done. Doing mergers & acquisitions work in Thailand can be a royal pain in the ass. The lack of anything resembling a sense of urgency amongst clients can be frustrating for anyone used to working for the gigantic global investment banks, and doubly so for someone like me who is inherently an impatient soul. Having a chunk of change is a timely and much welcome relief, and if we ever manage to close this deal and earn our success fee, I might very well treat myself to a new iPod.


My recent pick-up in mood could also be attributed to the shepherd's pie and pint of Guinness I had for dinner. I haven't had either in a long time, and having a pint of Guinness is guaranteed to put me into a happy happy joy joy stupor. As much as I appreciate my regular fare of Heineken , or even Black Label or Absolut on my "fancier" nights out, nothing beats a hardy stout (that rhyme sounds like a nifty advertising jingle, eh?). Creamy luscious black nectar of the gods! I've been eating a lot of Thai and fast food lately, so I've started craving foods that I haven't had in a while. I could really use some Mexican food. And some bratwurst, hot mustard, and sauerkraut would really hit the spot. Bratwurst & Guinness....I'm getting a very Homer Simpsonish sensation washing over me about now...

My spirits might also be buoyed by the return of my favorite pirated DVD vendor, following a brief hiatus after that last ineffectual police crackdown. Although it's slated for release in Bangkok next month, I had been dying to get ahold of Fahrenheit 9/11, so I was particularly pleased to see the vendor had a copy. The quality wasn't stellar, but it was serviceable for my needs and did not disappoint. I didn't think I could get any more indignant about our Commander & Thief, but the film just makes me even more enraged. I marvel at the fact at what an ardent Republican I used to be in my early college days, and what a rabid anti-GOPer I am today. To paraphrase: Hell hath no fury like a Republican scorned. Gotta remember to swing by the embassy this week to register to vote.

I was also hoping to find Will Farrell's new flick Anchorman, but didn't see it in stock. Fortunately, I did manage to find a DVD-quality rip of Bad Santa, which I might watch while in the office tomorrow (shhhh!! Don't tell anyone!). I also bought Troy and Better Luck Tomorrow, which I'll probably get through by week's end.

Alright. End of the weekend for me. Better try to squeeze in a bit of work before crashing for the night. Auf wiedersehen! (yeah, still thinking about the bratwurst...) posted by someone bearing a striking resemblance to Paul | 11:32 PM |
---


Friday, July 23, 2004 "As far as me and the vice presidency is concerned ... I spent a number of years in a North Vietnamese prison camp in the dark and (was) fed scraps, and I don't know why I would want to do that all over again." - Senator John McCain (R - Arizona)

Best laugh I've had all day. posted by someone bearing a striking resemblance to Paul | 2:08 PM |
---


Thursday, July 22, 2004
When I was browsing through HMV while in Singapore, I quite randomly and fortuitously happened to come across the entire 8-episode run of the live action series The Tick on DVD, and without hesitation snapped it up. I saw the pilot episode a while back, and found it to be utterly hilarious. The other episodes do not disappoint. I only regret that the series didn't generate enough steam to keep it going.

I just finished downloading the entire 3-year run of the animated Tick series. Thank heaven for Bit Torrent! Now I just need to find time to watch 3 year's worth of cartoons... posted by someone bearing a striking resemblance to Paul | 1:54 AM |
---


Wednesday, July 21, 2004
Just popped by CNN.com looking for news on Microsoft's recently announced $75 billion dividend and stock buyback program (to put it in perspective, $75 billion is 3 times larger than the market value of General Motors, and more then 6 times the market value of AT&T, America's largest auto and communications companies, respectively). Perusing the headline links on the right margin of the CNN website, I fail to find any links mentioning Microsoft. Instead, I see 3 (of 7) key headlines:

Jenna Bush sticks out tongue at photographers
Britney Spears' fiance a father again
Mary-Kate Olsen to return home soon

Glad to see those CNN guys stay on top of the hottest stories. posted by someone bearing a striking resemblance to Paul | 10:20 PM |
---
I treated myself to a stay-at-home-do-no-work day. Not that I've been killing myself with work, but I just felt I needed a day of complete unproductivity. It looks like the merger deal my friend and I have been pitching for might actually come through, so this may be one of my last truly goof-off days for a while. The timing couldn't be better though; my bank account has dwindled dramatically, and I desperately need a cash infusion.

I spent a large portion of the day playing Baldur's Gate 2. But I'm also the type of person that likes to have the television running in the background. Whether I'm working on a spreadsheet model, typing blogs, playing games, or even reading a book, I like having ambient noise in the the background. I managed to watch 4 videos today: Terminator 3, True Lies, Strictly Ballroom (still one of the all-time great date movies), and Shall We Dance? I also caught parts of movies on HBO, including the tremendously horrific Adam Sandler shit bomb Mr. Deeds.

I did manage to venture out later in the afternoon to get a haircut, which has been long overdue. Unlike many men my age who worry about male pattern baldness, my hair grows like a thatch of weeds. I even joke about my hairline creeping forward, it gets so shaggy sometimes. My hair is also starting to grey in a big way, though rather deceptively so. From a distance, it still appears as a rich black, but up close it's peppered with squiggly greys.

I went to a new hairstylist today, in a salon attached to my condo. I generally don't like to chat during hair cuts, which I consider private, reflective time (much like doing #2 on the crapper). So when I visit a new hairstylist in Bangkok, I try to speak no Thai (or at least, really bad Thai) in order to circumvent idle chit chat. However, the condo unit houses a significant number of expatriates, so it came as no surprise that the woman cutting my hair spoke decent English. Here are two of her comments to me:

"Are you from Singapore? You have very thick hair, like most Singaporeans!" Huh? I guess next time I pass through Singapore, I'll have to run my hand through people's hair.

"You're from California? That's nice. Better than New York; nothing for terrorists to destroy!" Now where in the hell did that come from?!?

And speaking of Singapore, which Nicha misses tremendously, I started kicking myself last night because I realized that I had forgotten that Singapore has a Denny's Restaurant. When I lived in Asia back in 94-97, one of the foods I truly craved was a Denny's chicken fried steak dinner with mashed potatoes, country gravy, and cut veggies. Someone tried to bring Denny's to Bangkok, but completely fucked it up, opting to only utilize the name, with a menu resembling nothing like the one I grew up with. It wasn't until I had moved to Singapore (and only in the last few months of my stay) did an authentic Denny's appear. Man, was I ever in hog heaven! When Nicha and I visited the U.S. last September, I had several occasions to satisfy my cravings, but I'm still disappointed that I didn't have the presence of mind a few weeks ago to look for the restaurant in Singapore, especially now that the country has seven of them. Next time, for sure...

On the way back up to my apartment from my haircut, I spotted a school boy (13, 14 years tops) sitting on some steps outside smoking away on a cigarette. Perhaps that's normal in the developing countries, but the American in me still finds that a bit unnerving. posted by someone bearing a striking resemblance to Paul | 8:20 PM |
---


Tuesday, July 20, 2004 Sweet Baby Buddha!! How much does this suck?!?

______________________

Crazed surgeon amputates penis
From correspondents in Bucharest
July 19, 2004

A ROMANIAN surgeon underwent a fit of madness while operating on a patient's testicles and instead cut off the man's penis and sliced it into three pieces, hospital officials said.The surgeon, Naum Ciomu, was described as a senior member of the hospital staff and a professor of anatomy.

He had been operating on a 34-year-old man for a testicular malformation when he committed the act, the officials said.

"We are shocked by what has happened. It is the first time we have had such a case," said Sorin Oprescu, head of the Bucharest emergency hospital where the patient was rushed for emergency reconstructive surgery.

The operations have been entrusted to a highly respected Romanian plastic surgeon, Ioan Lascar, who said he would try to restore the man's urinary function but that he was unlikely to recover normal sexual activity.

Doctor Ciomu has been banned from entering an operating theatre for two months pending the results of an investigation by the medical council, Oprescu said.

Meanwhile the wife of the unfortunate patient said she was suing Ciomu.


posted by someone bearing a striking resemblance to Paul | 4:38 PM |
---


Friday, July 16, 2004 I stumbled across a recent article in the International Herald Tribune that speculates about the definition of 5-star vs. 6-star hotels (and even the world's only "7-star" hotel). I still don't see the Fullerton Hotel as a 6-star though.
_____________________________________________

Hotel ratings: Seeing stars?
Joe Sharkey NYT Tuesday, July 6, 2004

NEW YORK - At the Burj Al Arab hotel in Dubai, the cheapest room goes for $666 a night, and a two-bedroom suite costs $2,231. It is beyond dispute that it ranks among the world's great hotels.

But is the Burj Al Arab merely in the upper tier of "five-star" hotels - a designation that has long been the standard for the world's best? No: According to the hotel and many travel writers, it is the world's first seven-star hotel. It is not alone in leaping into new galaxies of self-definition. As lodging companies rush to establish their highest-level brands in cities and resort areas the world over, scores of luxury hotels now claim six-star status.

What is going on here? Has grade inflation come to hotel rating scales? Well, yes - but for good reason, argues David Beer, a founder of Brennan Beer Gorman Architects, which has designed top luxury hotels, including the Peninsula in Bangkok. There has been so much expansion and improvement in the five-star category in the last decade, he said, that there is a need to add an extra star to describe the creme de la creme. (Beer has a list of 11 hotels worldwide that he says meet this standard, and the Burj Al Arab is not on it.)

"Around the world, a five-star rating may encompass anything from a very nice Sofitel or a very good Westin to the Mandarin Oriental in Hong Kong or the Gritti Palace in Venice, and they really aren't the same," he said, citing two hotels he believes deserve six-star status. So who, exactly, doles out these stars? Whether to describe a basic motel beside a highway or a luxurious resort, the rankings confuse many travelers. That is mostly because there are no clear standards, and there is no definitive source.

The Mobil and AAA travel guides in the United States and the Michelin Red Guides in Europe are well respected, though they do have detractors. But beyond those lies a vast gray area, where the use of stars can be so indiscriminate as to be nearly meaningless. The best advice for travelers is to treat all ratings with skepticism and to check for the specific amenities a hotel offers. And remember that high price does not automatically mean high quality.

So what might six stars mean, if the universe can stretch that far? In Beer's estimation, the designation should go to hotels that maintain "champion status," with exquisite personal service, unparalleled location and genteel exclusivity. Knocking elbows with fashionable locals in a flashy lobby bar is not something one does at a six-star hotel, he said. Though price is not the defining factor, he added, "these are hotels that are basically for the guests who are paying $700 or $800 a night, which is a lot different from luxury five-star hotels with lots of shops in the lobby and outsiders coming in and weddings being held on the staircase."

Some traditional luxury hoteliers resist ratings supersizing. "I wouldn't use the term 'six-star hotel' myself," said Ricci Obertelli, global development director of the Dorchester Hotel Group, whose luxury properties include the Dorchester in London, the Beverly Hills Hotel in California and the Meurice in Paris. But he knows a six-star when he sees one. "For example, if you were a wealthy entertainer and you came to the Dorchester in London," he said, "and let's say you just finished your show and you wanted to have a five-course meal at two in the morning, you'd expect a chef to be there to prepare it. And that expectation would be met."

The hotel industry is dominated by about 10 international chains, most of which have developed brands that fit into four or five categories, roughly corresponding to star ratings. A typical one-star chain is Motel 6, owned by Accor Hotels, which also has the five-star Sofitel brand. A big player in the crowded three-star niche is Courtyard by Marriott, from Marriott International, which also owns the five-star Ritz-Carlton chain.

Because corporate travel reimbursement policies often spell out the price level and even the hotel brands that an employee may use, many frequent business travelers can readily rank domestic hotels on the five-tiered scale. But some ranking systems claim to be far more discriminating. The ratings in the Mobil Travel Guides ( stars) and the AAA travel guides (diamonds) are based on evaluations by teams of inspectors who are armed with detailed checklists. To earn three stars from a Mobil inspector a hotel needs to pass muster on a long list of requirements - from "complete room service" and two phones to "framed artwork or interesting architectural features in room."

In its ratings for 2004, Mobil gives five stars to only 30 of the estimated 50,000 hotels in the United States. AAA awards five diamonds to only 68 hotels domestically. Mobil and AAA both say their strict grading is in stark contrast to what Mobil calls the "wildly fluctuating" and "suspect" galaxies of stars awarded elsewhere, especially on Internet travel sites that rank hotels while at the same time selling their rooms.

Peter Greenberg, author of "Hotel Secrets From the Travel Detective," recommends taking all guides with a grain of salt. "They're guidebooks, not bibles," he said. For hoteliers, he said, they are important "partly because getting a good rating allows them to justify a higher rate."

Travelers in Europe are also often confused by hotel ratings. In some countries, hotels are given star ratings by government-affiliated tourist agencies, which rely mostly on simple evaluation of physical property - is the bathroom in the room or down the hall? - and room rates. "The assessment is based exclusively on objective criteria. Individual evaluations are emotional and subjective," the German Hotel and Restaurant Association acknowledges on its Web site.

Greenberg said that "overseas, a star rating can represent a government designation that signifies, for tax reasons, what a hotel is charging."

"A five-star hotel can simply mean you're staying in the most expensive hotel in town," he added. "It doesn't necessarily mean you're staying at a great hotel."

Of course, a well-informed travel agent with many sources and lots of experience can provide good evaluations. Yet even top travel agents say they can be bewildered by the stars. "Really, you have to know the hotel, because the ratings systems are really all over the lot," said Blake Fleetwood, president of Planetarium Travels in New York. posted by someone bearing a striking resemblance to Paul | 12:13 PM |
---
I've resigned myself to the cold hard truth that I am never going to get around to the monstrous task of properly and fully recounting all the myriad trials and tribulations that I've experienced since late April, when I last blogged about myself on anything of real substance. Perhaps I was thinking that if I post 4 months of complete nonsense, I might forget that stuff has happened to me, not all of it pleasant.

Lessee...where to begin? How about by ripping off the bandage? I left my job at the boutique investment bank. I gave it my best college try, but the conflicts came to a head, and it seemed to me the best move to cut my losses and look for greener pastures elsewhere. Overall, a disappointing experience. Enough said about that.

Shortly before I left my job, Nicha and I had a chance to swing up to Hong Kong for a few days. Got to squeeze in some meals and quality time with a number of friends and former colleagues, took Nicha to see the large Buddha on Lantau Island, and wandered about Causeway Bay as Nicha did a phenomenal amount of shopping.

I also had the opportunity to spend a week in Malaysia, wandering in the forests of Sabah as part of a due diligence assignment to value a forestry concession. A lovely bit of country (the logging equipment and clearfell areas notwithstanding), and learned quite a bit about the pulp & paper industry. I would wind up quitting my job 2 weeks later.


The Malaysia trip unfortunately fell smack dab in the middle of my brother Pete's and his family's visit to Thailand. My sis-in-law Jane is preggers with their 2nd kid (just found out a few days back that it's gonna be another girl! Sydney will be her name, after the Alias character), so they wanted to visit and give my niece Jessie (that's her to the right, the little heartbreaker) a chance to see family before Sydney arrives. They spent 3 weeks out here, of which the 1st and 3rd were in Bangkok, and my Malaysia trip in the middle. Though Jessie's jet lag, fevers, and general fussiness prevented her and her folks from getting out much, I for one was overjoyed to have them here. I was (and still am) quite bummed to see them go.

So here I am, again out of work, and looking for what will be my 5th job in 5 years. Very little career focus, and little sense of what the future holds in store for me. It can get depressing at times. I've been doing some freelance work with my friend Ami (the two of us have been trying to put together a few property deals for a client, and we're trolling around trying to raise funds to start our own private equity fund/business incubator), but am still considering finding a job with more stable prospects. I've let go of the idea of being an international jet-setting, deal-making power broker in hopes of generating a stable enough income so that Nicha and I can start a family before her ovaries shrivel up (she still thinks she has more than a few good years left before she needs to worry, but at 32, I'd hate to risk any health problems related to pregnancies in her mid/late 30s). I just need to find a job. Maybe then, my spirits will pick up a bit.

I normally spend a large amount of time online, but lately, I've been exploring more and more of the web, mostly new and interesting blog sites. Having discovered the Rice Bowl Journals last November, I find it a welcome respite from a sometimes stressful life and oftentimes uninspiring cyberspace. Just goofing off in the RBJ forums for a short while can really make my day, and I've met some very interesting characters. I've had the really good fortune to meet a pair of forum members during a trip to Singapore last week. Nicha was in town an entire week for company training, where they put her up at the Fullerton Hotel. I managed to join her for 4 days for a job interview and to hang out with friends.

If I can take a moment to go off on a completely random tangent, Nicha informed me that the Fullerton was one of only two 6-star hotels in Singapore. Which begs the question: what the hell is a 6-star hotel? What distinguishes it from a 5-star hotel? A complementary blow job from the bell captain? A gold brick under the pillow?!? And who decides if it's a 6-star hotel? The hotel manager? The completely "unbiased" Singaporean tourism board? I kept harping on this the entire time, which no doubt bugged the living shit out of Nicha. Of course, the more something bothers her, the more I like to dwell on it. Tee hee! I'm such a sadistic bastard. Ok, back on course.

During the course of our visit, we each got to spend time with good friends, but the big highlight for me was meeting RBJ chum Terence and his charming wife Celine. A great couple, we spent the greater part of the day wandering about the streets of Singapore and chatting up a storm. Here's a pic of the four of us at a late dim sum lunch.



Also managed to snap a few decent scenery shots. These first two were taken at the Sri Mariamman Temple, the oldest Hindu temple in Singapore. Terence and I couldn't help but notice how completely surreal it was to see a gaggle of Korean tourists wander about a Hindu temple located in Chinatown.



This a picture taken off of a tour boat. The short, wide building in the center is the Fullerton Hotel. This area is known as Raffles Place, and used to be the city-state's Financial District. I used to work in one of the tall buildings in the background, but having spent most of my working days indoors instead of outdoors, I couldn't tell you which one it was.



Spotted this bit of Engrish in Chinatown. Couldn't resist getting a picture.



In addition to the folks at the online RBJ community, I've been stumbling across an increasing number of blog sites written by expats in Thailand, all of them presenting diverse perspectives on my adopted home. Many of us have created a web of links to each others' sites (and several of you will eventually be reading this entry). I can only hope to meet many of them in the near future.

Incidentally, and bearing no point relevant to any other point whatsoever, I've spent the last few weeks playing a new computer game: Baldur's Gate II (Shadows of Amn, and the Throne of Bhaal expansion pack). Ok, so the game isn't exactly new; it's been sitting on my shelf for years, and I never really got around to it until now. When it comes to computer games, I rarely find one that I truly enjoy, but when I do, I will play that game (and only that game) for years on end. It started with Lords of the Realm II, which I played for about 2-3 years, then it was Diablo II (and the Lord of Destruction expansion pack), which I spent the last 3-4 years playing, and within the last few weeks, Baldur's Gate II, which has made me incredibly nostalgic over my uber dorky high school Advanced Dungeons & Dragons days. I expect to be playing this one for a while, though with the recent release of Lords of the Realm III, I may be turning over to a new game in record time.

Alrighty, then. Sleepy time for Paul. posted by someone bearing a striking resemblance to Paul | 2:23 AM |
---


Wednesday, July 14, 2004 Tid-bits

Retired pornstar Asia Carrera will kill you with a rocket launcher. Interview here

Gandalf has a really big penis. Article here

Shooting balls off: sucks. Getting arrested afterwards: really sucks. Article here

posted by someone bearing a striking resemblance to Paul | 4:33 PM |
---


Sunday, July 11, 2004 Damn! I just got my first spam mail at my new Gmail account. The onslaught begins... posted by someone bearing a striking resemblance to Paul | 10:19 PM |
---


Saturday, July 03, 2004 Looks like the Chinese government wants to screen and censor the 220 billion SMS messages sent by its 260 million cell phone users. My favorite line from the Yahoo article: "...the government arrested people accused of causing panic by spreading what it said were "rumors" about SARS via text messages, at a time when the authorities were still denying the disease existed." In a nutshell, the Chinese government wants to maintain its monopoly on bald-faced lying. Can't help but crack up at that one.

*********************

China to Target Mobile Phone Messaging
Fri Jul 2, 4:53 PM ET
By ELAINE KURTENBACH, AP Business Writer

SHANGHAI, China - Chinese authorities plan to use new technology to improve surveillance of mobile phone messages amid efforts to intensify policing of private communications, reports said Friday.

The official Xinhua News Agency said the campaign was aimed at cleaning up "pornographic, obscene and fraudulent" phone messages that have "infiltrated short messaging content."

According to the Paris-based group Reporters Without Borders, the campaign also aims to widen surveillance of political dissent.

Beijing already screens e-mail, censors Internet chatrooms and blocks access to foreign Web sites considered subversive. But mobile phone messaging — known as short-message service, or SMS — is a newer technology, and the government has struggled to develop ways to control it.

Reporters Without Borders issued a statement protesting news that a Chinese company, Venus Info Tech Ltd., was authorized by Beijing to sell a "realtime surveillance system" for SMS messages.

The technology uses filtering algorithms created by the government-run Chinese Academy of Sciences to identify key words and combinations of words that might be associated with political rumors and "reactionary remarks," the group said.

The new surveillance systems can automatically alert police and keep records of suspect messages, it said.

The Xinhua report did not directly mention politically unacceptable messages but noted that violent text messages or those that could "harm economic interests" were also cause for concern.

It said providers of phone and Internet services were expected to participate on a basis of "self-discipline."

So far, 11 companies have been penalized for using the Internet to provide illegal services, including online prostitution rings, it said.

Separately, a newspaper reported that China's biggest mobile phone company will start screening text messages for pornographic content.

The Beijing Daily Messenger did not say how China Mobile would screen messages sent by its 153 million customers, or whether it also would target politically oriented messages. The company says customers sent 40 billion messages last year.

According to the Ministry of Information Industry, China's 260 million mobile phone users sent a total of 220 billion SMS messages last year.

During last year's outbreak of Severe Acute Respiratory Syndrome, the government arrested people accused of causing panic by spreading what it said were "rumors" about SARS via text messages, at a time when the authorities were still denying the disease existed. posted by someone bearing a striking resemblance to Paul | 12:20 PM |
---
Ed Rooney: Sex Offender

Gives a whole new meaning to the line "Bueller, your ass is mine!!" From The Smoking Gun.

"Ferris Bueller" principal failed to report residence change

JULY 2--Actor/convicted sex offender Jeffrey Jones was arrested yesterday for failing to inform Florida authorities that he had moved from a temporary residence in Sarasota where he was bunking with his mother. The 57-year-old performer, best known as the snarling principal from "Ferris Bueller's Day Off," formally registered as a Sunshine State sex offender last December, months after he pleaded no contest in Los Angeles to a felony charge of paying a 14-year-old boy to pose for explicit photos. According to a probable cause affidavit, Jones was nabbed Thursday after Sarasota sheriff's deputies learned that he had moved to a new residence without informing law enforcement authorities (who tend to want to know the whereabouts of sex offenders). Jones, pictured below in a sheriff's arrest card, is facing two new felonies for failing to apprise cops of his new crib.


posted by someone bearing a striking resemblance to Paul | 12:01 PM |
---


Friday, July 02, 2004 Unlike most American journalists that lob "pussified" softball questions that Bush Junior can easily respond to (often with prepared, stock answers), Irish TV journalist Carole Coleman had the balls to ask the tough questions, pull no punches, and essentially bitch-slap a flustered president without mercy. Here is the transcript of her interview with him last week before the European Summit. Bush's media toadies were reportedly pissed off.

**************************************************

Q Mr. President, you're going to arrive in Ireland in about 24 hours' time, and no doubt you will be welcomed by our political leaders. Unfortunately, the majority of our public do not welcome your visit because they're angry over Iraq, they're angry over Abu Ghraib. Are you bothered by what Irish people think?

THE PRESIDENT: Listen, I hope the Irish people understand the great values of our country. And if they think that a few soldiers represents the entirety of America, they don't really understand America then.

There have been great ties between Ireland and America, and we've got a lot of Irish Americans here that are very proud of their heritage and their country. But, you know, they must not understand if they're angry over Abu Ghraib -- if they say, this is what America represents, they don't understand our country, because we don't represent that. We are a compassionate country. We're a strong country, and we'll defend ourselves -- but we help people. And we've helped the Irish and we'll continue to do so. We've got a good relationship with Ireland.

Q And they're angry over Iraq, as well, and particularly the continuing death toll there.

THE PRESIDENT: Well, I can understand that. People don't like war. But what they should be angry about is the fact that there was a brutal dictator there that had destroyed lives and put them in mass graves and had torture rooms. Listen, I wish they could have seen the seven men that came to see me in the Oval Office -- they had their right hands cut off by Saddam Hussein because the currency had devalued when he was the leader. And guess what happened? An American saw the fact that they had had their hands cut off and crosses -- or Xs carved in their forehead. And he flew them to America. And they came to my office with a new hand, grateful for the generosity of America, and with Saddam Hussein's brutality in their mind.

Look, Saddam Hussein had used weapons of mass destruction against his own people, against the neighborhood. He was a brutal dictator who posed a threat -- such a threat that the United Nations voted unanimously to say, Mr. Saddam Hussein --

Q Indeed, Mr. President, but you didn't find the weapons of mass destruction.

THE PRESIDENT: Let me finish. Let me finish. May I finish?

He said -- the United Nations said, disarm or face serious consequences. That's what the United Nations said. And guess what? He didn't disarm. He didn't disclose his arms. And, therefore, he faced serious consequences. But we have found a capacity for him to make a weapon. See, he had the capacity to make weapons. He was dangerous. And no one can argue that the world is better off with Saddam -- if Saddam Hussein were in power.

Q But, Mr. President, the world is a more dangerous place today. I don't know whether you can see that or not.

THE PRESIDENT: Why do you say that?

Q There are terrorist bombings every single day. It's now a daily event. It wasn't like that two years ago.

THE PRESIDENT: What was it like September the 11th, 2001? It was a -- there was a relative calm, we --

Q But it's your response to Iraq that's considered --

THE PRESIDENT: Let me finish. Let me finish, please. Please. You ask the questions and I'll answer them, if you don't mind.

On September the 11th, 2001, we were attacked in an unprovoked fashion. Everybody thought the world was calm. And then there have been bombings since then -- not because of my response to Iraq. There were bombings in Madrid. There were bombings in Istanbul. There were bombings in Bali. There were killings in Pakistan.

Q Indeed, Mr. President, and I think Irish people understand that. But I think there is a feeling that the world has become a more dangerous place because you have taken the focus off al Qaeda and diverted into Iraq. Do you not see that the world is a more dangerous place? I saw four of your soldiers lying dead on the television the other day, a picture of four soldiers just lying there without their flight jackets.

THE PRESIDENT: Listen, nobody cares more about the death than I do --

Q Is there a point or place --

THE PRESIDENT: Let me finish, please. Please. Let me finish, and then you can follow up, if you don't mind.

Nobody cares more about the deaths than I do. I care about it a lot. But I do believe the world is a safer place and becoming a safer place. I know that a free Iraq is going to be a necessary part of changing the world. Listen, people join terrorist organizations because there's no hope and there's no chance to raise their families in a peaceful world where there is not freedom. And so the idea is to promote freedom, and at the same time protect our security. And I do believe the world is becoming a better place, absolutely.

Q Mr. President, you are a man who has a great faith in God. I've heard you say many times that you strive to serve somebody greater than yourself.

THE PRESIDENT: Right.

Q Do you believe that the hand of God is guiding you in this war on terror?

THE PRESIDENT: Listen, I think that God -- that my relationship with God is a very personal relationship. And I turn to the good Lord for strength. And I turn to the good Lord for guidance. I turn to the good Lord for forgiveness.

But the God I know is not one that -- the God I know is one that promotes peace and freedom. But I get great sustenance from my personal relationship. That doesn't make me think I'm a better person than you are, by the way. Because one of the great admonitions in the Good Book is, don't try to take a speck out of your eye if I've got a log in my own.

Q You're going to meet Bertie Ahern when you arrive in Shannon Airport tomorrow. I guess he went out on a limb for you, presumably because of the great friendship between our two countries. Can you look him in the eye when you get there and say, it will be worth it, it will work out?

THE PRESIDENT: Absolutely. I wouldn't be doing this, I wouldn't have made the decisions I did if I didn't think the world would be better. Of course. I'm not going to put people in harm's way, our young, if I didn't think the world would be better. And --

Q Why is it that others --

THE PRESIDENT: Let me finish.

And so, yes, I can turn to my friend, Bertie Ahern, and say, thank you, thanks for helping, and I appreciate it very much. And there will be other challenges, by the way.

Q Why is it that others don't understand what you're about?

THE PRESIDENT: I don't know. History will judge what I'm about. But I'm the kind of person, I don't really try to chase popular polls, or popularity polls. My job is to do my job and make the decisions that I think are important for our country and for the world. And I argue strongly that the world is better off because of the decisions I have made -- along with others. America is not in this alone. One of our greatest allies of -- in the world is your neighbor, Great Britain. Tony Blair has been a strong advocate for not only battling terrorists, but promoting freedom, for which I am grateful.

Let me say one other thing about America that your viewers must know -- is that not only are we working hard to promote security and peace, we're also working to eradicate famine and disease. There is no more generous country on the face of the earth than the United States of America, when it comes to fighting HIV/AIDS. As a matter of fact, it was my initiative --

Q Indeed, that's understood --

THE PRESIDENT: -- my initiative, that asked Congress to spend $15 billion over five years to battle this pandemic. And we're following through on it. And no other country in the world feeds more of the hungry than the United States. We're a compassionate nation.

Q Mr. President, I know your time is tight, can I move you on to Europe? Are you satisfied that you are getting enough help in Iraq from European countries? You have come together, you are more friendly now -- but they're not really stepping up to the plate with help, are they?

THE PRESIDENT: Well, I think, first of all, most of Europe supported the decision in Iraq. And, really, what you're talking about is France, isn't it? And they didn't agree with my decision. They did vote for the U.N. Security Council resolution that said, disclose, disarm or face serious consequences. We just had a difference of opinion about when you say something, do you mean it.

But, nevertheless, there's no doubt in my mind President Chirac would like to see a free and democratic and whole Iraq emerge. And same in Afghanistan. They've been very helpful in Afghanistan. They're willing to forgive debt in Iraq. But most European countries are very supportive and are participating in the reconstruction of Iraq.

Q And how do you see the handover going? The next few weeks are going to be crucial. Can democracy really flourish with the violence that's going on? A hundred Iraqis dead today, Mr. President.

THE PRESIDENT: I don't like death, either. I mean, you keep emphasizing the death and I don't blame you -- but all that goes to show is the nature of the enemy. These people are willing to kill innocent people. They're willing to slaughter innocent people to stop the advance of freedom. And so the free world has to make a choice: Do we cower in the face of terror, or do we lead in the face of terror?

And I'm going to lead in the face of terror. We will not let these terrorists dash the hopes and ambitions of the people of Iraq. There's some kind of attitude that says, oh, gosh, the terrorists attacked, let's let the Iraqis suffer more. We're not going to let them suffer more. We're going to work with them. And I'm most proud of this fellow, Prime Minister Allawi. He's strong and he's tough. He says to me, Mr. President, don't leave our country, help us secure our country so we can be free.

Q Indeed, Mr. President, just to get back to that. Can I just turn to the Middle East --

THE PRESIDENT: Sure.

Q -- and you will be discussing at the EU summit and the idea of bringing democracy to the broader Middle East.

THE PRESIDENT: Right.

Q Is that something that really should start, though, with the solving of the Israeli-Palestinian crisis?

THE PRESIDENT: Well, I think, first of all, you've got a democracy in Turkey. And you've got a democracy emerging in Afghanistan. You've got a democracy in Pakistan. In other words --

Q But shouldn't that be on the top of the list --

THE PRESIDENT: Please. Please. Please, for a minute, okay. It'll be better if you let me finish my answers, and then you can follow up, if you don't mind.

What I'm telling you is democracy can emerge at the same time that a democracy can emerge in the Palestinian state. I'm the first American President to have called for the establishment of a Palestinian state, the first one to do so. Because I believe it is in the Palestinian people's interest; I believe it's in Israel's interest. And, yes, we're working. But we can do more than, you know, one thing at a time. And we are working on the road map with the Quartet, to advance the process down the road.

Like Iraq, the Palestinian and the Israeli issue is going to require good security measures. And --

Q And a bit more even-handedness from America?

THE PRESIDENT: -- and we're working on security measures. And America -- I'm the first President to ever have called for a Palestinian state. That's, to me, sounds like a reasonable, balanced approach. But I will not allow terrorists to determine the fate -- as best I can, determine the fate of people who want to be free.

Q Mr. President, thank you very much for talking to us.

THE PRESIDENT: You're welcome. posted by someone bearing a striking resemblance to Paul | 11:59 PM |
---