Sunday, October 31, 2004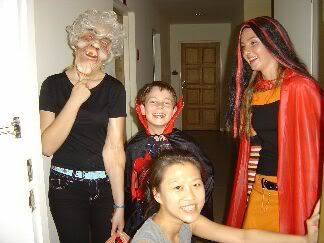 *DING DONG*

"Are we expecting anyone?" I asked Nicha. "No" she replies. After all, it's 10 pm on a Sunday night. Who the hell would be bugging us at 10 pm on a Sunday night? Perhaps someone who is looking for the wrong room...

I can hear a small commotion outside as I open the door. Then two things hit me: first, the lights in the hallway are out, and second, there are three freaks in the doorway. Two older gals and a little boy, decked out in costume and carrying bags stuffed with goodies.

"TRICK OR TREAT!!!" they screamed.

The first thought in my head: Holy shit! We got no candy!! I hope they don't leave a flaming bag of turd at our doorstep! And then, Who the hell in Thailand goes trick-or-treating?!? This is a Buddhist country!!

Nicha leaps off the couch all excited, shouting "We have chocolate! We have chocolate!! But you have to let us take your picture!"

Seconds later, she calls me into the kitchen, a bag of potato chips and juice boxes in hand. "I can't find anymore chocolate! I think I ate the last of it earlier today! Will these be ok?"

Oh, crap, I thought, juice and chips? If these kids are anything like American kids (they sound kinda European; are those German accents?), they're gonna piss on the door knob or super glue the key hole for sure.

They were very good natured, accepting our juice boxes and potato chips, as well as our sheepish apologies and our eager request for a photo.

Nicha and I shared a good laugh, and were about to load the digital pic onto the laptop when at the door:

*DING DONG*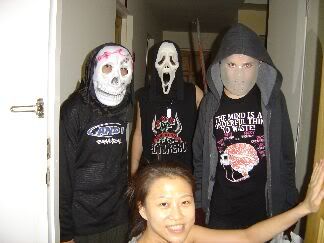 Aw, man! We got no more juice or chips! And at the door: another four kids, in somewhat more gruesome costumes. (Definitely sounds like German accents. I didn't know we had Germans living in our condo building?).

"Sorry, guys! All we have left are Cokes. Are those ok?"

Another sheepish apology, another photo taken.

We were concerned. Our cupboard was running bare. Any more visits, and we'd be handing out soup, yogurt, and fresh garlic, a sure fire recipe for getting pelted with water balloons at some point in the near future.

"We have enough soda for one more team," Nicha tried to reassure me.

I had an even better idea: turn off the lights, turn down the television volume, and pray those kids don't tell the entire building that the suckers in room 6071 are handing out the last of their food supply. We breathed a sigh of relief when we saw the hallway lights come on from under the door.

We speculated that there are 2 European families that live on our floor, both of whom know that I'm a Yank. Perhaps one of them hosted a Halloween party for the kids, and directed the ghoulies over to our room, guessing that we might have a passing familiarity with western holidays and customs. I told Nicha that no matter what kind of neighbors (Thai or expat) we have at our new house, we are buying a huge supply of candy and some cool masks for Halloween next year.

Just in case... posted by someone bearing a striking resemblance to Paul | 10:22 PM |
---
Happy Halloween!

It's been an interesting week in college football. Last weekend, the #8 Cal Bears pummelled Arizona 38-0, and just now intercepted #21 Arizona State for a score, taking the Bears up 20-0 in the third quarter. Given this weekend's two major major upsets (#3 Miami State and #5 Florida State both lost to unranked opponents), a victory over Arizona State could propel Cal into the top 5, further cementing our chances to play in the Rose Bowl. I'll start looking into buying tickets over the next week or so...

[Update: Cal shuts out ASU, 27-0. Muy excellente!]

Also worthy of comment is my other alma mater, the Northwestern Wildcats, who upset #19 Purdue 13-10, making this their 2nd victory over a ranked team this month. A powerhouse in the making?

The weekend has been pretty tame. Spent several hours yesterday at Pantip Plaza with a friend of mine. If you can imagine a 5-storey mall with shops selling every type of tech hardware and software known to humankind, you'd have Pantip Plaza. My buddy wanted me to help him get a portable external hard drive, and I was there to browse through all the cool toys I couldn't have. I was really tempted to get an 80 gb drive, which cost less than $200 and was only slightly bigger than my PDA. I wanted iPod accessories, I wanted pirated DVDs, I wanted new computer games, I wanted a camcorder, I want I want I want. But I was a good boy, and only bought myself a can of Pepsi.

That evening was a real treat though. Nicha took me to Patpong, Bangkok's red light district, overflowing with tittie bars and merchants hawking fake Prada bags and Rolex watches. Why such a treat? Among all the sleaze, tucked away in the neon and back alleys, are some of Bangkok's better kept secrets: tasty, inexpensive food. I have been craving chicken fried steak for the longest time, and after I had been whining about it in August, one of my wife's clients (a Texan no less, the one who hosted the music trivia party we attended a few weeks ago) suggested we check out a place called Madrid, one of Patpong's tiny lounge bars, which supposedly serves the best chicken fried steak in Thailand (if not the only one). Not the best I have ever had, but very tasty, and at Baht 150 (US$3.75) for 2 large chops smothered in country gravy with a side of fries, and veritable bargain. Managed to satisfy a years-long craving for the price of a McDonald's Happy Meal.


I ought to be working now, but methinks I'll take a nap on this lazy Sunday afternoon, or continue reading a book I picked up the other day: Jenna Jameson's autobiography "How to Make Love Like a Porn Star: A Cautionary Tale". Some "interesting" photographs, and a fascinating story about how the world's most popular and influential porn starlet descended into a world of sleaze and managed to find happiness at the end. At any rate, it's a nice change of pace from reading about American politics, the pharamaceutical industry, alleviating Third World poverty, and retail management.
posted by someone bearing a striking resemblance to Paul | 11:21 AM |
---


Friday, October 22, 2004
October is a big month for birthdays. Not only is tomorrow my niece Jessica's 2nd birthday (this kid is so precocious that she began her Terrible Two's almost an entire year early!), but in a few hours, the universe will be 6,000 years old. Happy Birthday Jessica and Universe!!!
______________________________

Universe's 6,000th birthday ...

Tim Radford
Friday October 22, 2004
The Guardian

Britain's geologists are about to celebrate the fact that the universe is exactly 6,000 years old.

At 6pm tonight at the Geological Society of London, scientists will raise their glasses to James Ussher, Archbishop of Armagh (below), who in 1650 used the chronology of the Bible to calculate the precise date and moment of creation.

Working from the book of Genesis, and risking some speculation on the Hebrew calendar, he calculated that it began at 6pm on Saturday October 22, 4004 BC.

Actually, he put the date at October 23, and then pedantically realised that time must have begun the night before, because the Bible said that "the evening and the morning were the first day."

The geologists selected the anniversary for a day-long conference on some of the fakes, frauds and hoaxes that have plagued geological and palaeontological research for centuries. "It's not that we think Archbishop Ussher's date was a fraud," said Ted Nield, the society's communications officer. "It's just that it was spectacularly wrong."

Dr Nield conceded, too, that in toasting the archbishop's calculations the geologists were committing another error. More than 6,000 years have passed since 4004 BC. The symmetry is only apparent. The date is a mere numerological reflection. The real anniversary passed unnoticed, in 1997. posted by someone bearing a striking resemblance to Paul | 2:50 PM |
---


Tuesday, October 19, 2004
Character Name: Arkimedes the Weak
Race: Human
Class: Magic-User
Level: 1st
Alignment: Neutral Good
Strength: 4
Intelligence: 9
Wisdom: 6
Dexterity: 9
Constitution: 5
Charisma: 5
Spell: Mild Sneeze
Weapon: Butter knife

This year marks the 30th anniversary of Dungeons & Dragons, that classic role playing game that kept me busy when I wasn't getting straight A's in high school, playing video games, or stealing my dad's Playboy magazines. Yes, I was your garden variety supergeek, and a major AD&D-aholic. It was a natural extension of my active imagination, fueled by many many years of sci-fi/fantasy reading, comic book collecting, and action movie watching. As much as your average schmoe loved the Lords of the Rings Trilogy, it was swords & sorcery freaks like me who creamed our pants seeing orcs, elves, and wizards being portrayed artistically on the big screen (just as we cringed at cheesy half-assed cinematic trash like the wretched Dungeons & Dragons movie a few years back). I haven't played D&D since my freshman year in college (by the Hammer of Thor!! Has it really been 15 years?!?), but the game will always have a cherished place in my heart and fantasies. And contrary to my mock character above, I actually prefered to play paladins (holy warrior knights) over spell-casters.


This year also marks the 30th anniversary of Hello Kitty, the most recognizable Japanese persona ever. While this mouthless cat is a merely a cutsy kiddie toy in the states, in Asia, she is a cultural juggernaut, an unstoppable marketing & merchandising force of nature. Kitty is frickin' everywhere! When I was living in Hong Kong, McDonald's would have special Kitty toy promotions with Extra Value Meals every few months. In my last few weeks there, they had Kittys and her boyfriend Dear Daniel (preserve my dignity and pretend that you don't know that I know the name of Hello Kitty's boyfriend) dressed in outfits from various countries playing in the World Cup. On such occasions, the lines would stretch out the door for weeks until the promotion expired. In Asia, Kitty ain't just for the teeny-boppers; it's for the high school students, the college students, the graduate students, the white coller executives, the housewives, and so on. I think Asian females have some genetic predisposition (let's call it Sanrio-itis) that makes them especially vulnerable to Kitty's cloying cuteness.

As it happened, Sanrio is one of Central's major brands, and in commemoration, we recently had a sale on all Hello Kitty and Sanrio products. In the atrium area by the escalators, our merchandising & display folks suspended a huge skeletal sphere, on which were wire gauze cutouts in shape of the world's continents, and covering the continent-shapes were dozens upon dozens of Kitty dolls. Quite amusing really. Too bad my camera phone sucks. Incidentally, Central is hosting another sale, in commemoration of the department store's 57th anniversary. The 56th wasn't anything special, but the 57th is definitely worth celebrating. As if wimminfolk needed an excuse to shop...

Hello Kitty isn't the only Japanese icon celebrating a birthday; this year, Godzilla hits the big 5-0. If Dungeons & Dragons takes me back to high school and junior high, Godzilla takes me back to grade school, when I still too young to figure out why the dialogue didn't quite match up to the characters mouth movements. Happy birthday, you big lizard dude.

And speaking of birthdays, I'm starting to feel old. Nicha just gave me a hug and wound up pinching a nerve in my neck. To be 24 again....=( posted by someone bearing a striking resemblance to Paul | 11:52 PM |
---


Sunday, October 17, 2004 Pounding headache, feeling drowsy, and still haven't had lunch, so I'll keep this post relatively short.

1. Cal Football handily defeats the UCLA Bruins in a nearly flawless 45-28 performance, further cementing our chances in a New Year's Day Bowl. As much as I hated missing Berkeley's Homecoming Game, I opted to sleep through this week's game. The odd hours were messing up my sleep schedule and taking a cumulative toll on my biological clock. I'm happy enough to wake up this morning to another solid victory. I'll get some rest and catch next week's game against Arizona. Now if only some team could unseat those infernal Trojans!

2. Yesterday I attended the Democrats Club of Thailand ballot party & BBQ at the Foreign Correspondents Club, where I had a chance to ask some final questions on my absentee ballot, chow down on a lot of All-American burgers/wieners/skewers/potato salad and meet some interesting folks, or as Ami had called them, "legitimate Americans instead of the Soi Cowboy crowd" (for you non-Bangkokians, Soi Cowboy is one the the more unsavory [read "red light district"] parts of Bangkok). Before I attended, I felt that my not having voted in 12 years was some kind of record, until I met a woman who had not voted since the other JFK. Her 44 years between elections was longer than most attendees had been alive! Interestingly enough, she had moved out to Bangkok in 1961, where she spent many years teaching at the Asian Institute of Technology before joining a non-government organization that is working to get the Thai government to destroy its stockpile of landmines. It was great to be surrounded by fascinating people who were not only politically pasisonate, but also sufficiently intelligent cosmopolitan to articulate a logical and coherent arguement.

3. I'm in my college acapella phase again. It generally starts with a song or two that catches my attention, in this case a stunning rendition of Gin Blossom's "Hey Jealousy" performed by the Virgina Tech Juxtaposition. Then I start listening to other old favorites for weeks on end (having to reorganize my music library for the new iPod has reintroduced me to a lot of forgotten favorites across all genres). It's also been a few years since I updated my collection (about 20-30 albums from 8-10 schools), so I visited one of my favorite acapella album wholesalers (yes! they do exist!) and ordered 10 albums from 6 different college groups around the country. The order is gonna set me back about 150 bucks, so I'm worried that the customs duties are going to double my out-of-pocket costs. But what can you do? Can't get this stuff out here...

4. OK, this post isn't as short as I was planning for it to be.

5. Work is going well. Can't really go into the specifics, since Central is a fairly well-known company, and several of the possible acquisition targets I'm looking at are likewise well-known. We are gearing up for our overseas push, and I'm scrambling to learn everything I need to know to build the company's export business. Fun stuff. I'm also still working on this freelance project, which I'm desperate to close this year. If that happens, I'll have the cash to finally get out of student loan debt (just in time to get neck deep into a mortgage!). I recently updated the financial model for the project. As tedious as spreadsheets can be sometimes, there are occasions where working with them can be immensely enjoyable and satisfying. In fact, my last few weeks working with Excel have been just that. Learning new functions and devising super-neat pieces of analysis. There are days that I really do enjoy being a geek.

Time to eat... posted by someone bearing a striking resemblance to Paul | 1:18 PM |
---


Wednesday, October 13, 2004 "In the most recent presidential election 105,360,260 people cast ballots. That means that each person's vote counted .000000949%. I defy you to find a mathematician who will tell you that number is less than or equal to zero. Okay, so we can agree, your vote counts. It counts .000000949%.

Swish that around in your mouth for a while. How does it taste?

Taste like freedom? 'Cause to me it tastes like jack-all squat."

- Stephen Colbert, America (The Book): A Citizen's Guide to Democracy Inaction

Two days ago, I got my absentee ballot for the U.S. Presidential Election. I'm pretty excited about exercising my long-neglected civic duty. I haven't voted in 14 years, so I hope I don't "pull a Florida" and fuck it up. Or even worse, not fuck up my vote, only to have it illegally and unconstitutionally discarded by scheming arch-conservatives. Then again, I'm a Democrat from right-wing stronghold Orange County, California, so I'm sure those aforementioned arch-conservatives aren't too worried about the impact of my pissant vote.

Being my first vote in 14 years, I actually started out by trying to keep an open, objective mind by searching the web for information on each candidate. After about 15 minutes, I came to my senses, said "Screw this!" (not aloud, mind you; I was at work), and voted with the Democratic ticket across the board. The funny thing is, I'm not all that fond of the Democratic Party. Nor do I dislike the Republican Party in general. I just really really hate George Bush, his administration, and the terrifyingly right-wing fundamentalist direction in which he is trying to steer the country.

The easy part was voting for the Federal offices; all the candidates are high-profile people with well-known platforms. It's all check, check, check, right down the party line. The harder part is trying to figure out who all these state government folks are, and deciphering all the state referendums. Looks like I have reading ahead of me... posted by someone bearing a striking resemblance to Paul | 11:10 PM |
---


Sunday, October 10, 2004 Damn.

It was a blood & guts fight all the way. Cal's last minute, 4th down pass from the 9 yard line into the endzone was unsuccessful. Cal loses 23-17. It was a good fight, one that will no doubt earn Cal some major respect. But I can't help but feel that if our special teams didn't have such a shitty day, we might have pulled out an upset.

I'm going to bed.

[Addendum, 11 October: Cal only drops 2 spaces to #9, certainly a testament to the impressive and respectable down-to-the-wire loss against the Trojans. Time to rest up for Cal vs. UCLA...] posted by someone bearing a striking resemblance to Paul | 5:47 AM |
---
I don't think my heart is supposed to be beating this way. It's sort of a "triple jump" heartbeat: hop! skip! JUMP!! Not good at all. Then again, I'm not supposed to be glued to a computer at 2:30 in the morning.

Why am I up this late? Glad you asked! (You didn't ask? Hmmm...maybe I'm still in my drowsy, hallucinagenic stupor). I'm up to catch a broadcast of the most important college football game in the history of the frickin' world!!! Ok, maybe just the most important game in recent Pac-10 history. I'm talking about the titanic match-up between the #1 ranked USC Condoms against my beloved #7 California Golden Stud Muffins. USC's national championship hopes are on the line; Cal's Rose Bowl aspirations are on the line. USC is looking to avenge last year's triple-overtime loss, their only loss of the season. Cal is looking for the pleasure of simply stomping the team belong to the poor little rich kids. GO BEARS!!

Not everything that's happened to me since I last blogged 2 weeks ago revolve around Cal Football, so let's rewind a bit and get you up to speed. Last Saturday, Nicha & I went to a really fun fun party, my first American-style house party in a long time. Imagine if you will, 50-60 predominately drunk, raucous, Bacchinalian Americans between the ages 30-60, screaming, dancing, singing, swearing, joking and flirting for 6-7 hours. Loved it!

Our host was one of Nicha's clients and his wife, a track coach at one of Thailand's leading international schools. The guest list pretty much reads like a Who's Who of the American Chamber of Commerce (a large number of expat entrepreneurs, business executives, and international school teachers), thrown in with a healthy dose of hedonism and imported beer. I was glad to see a few other Thai-Thais at the party, but for the most part, I was happy to be surrounded by American accents for an evening.

[FUCKFUCKFUCKFUCK!!!!!!!! First blood goes to the Trojans. Those goddam fucktards...]

The party itself was a themed one: a 6-hour music trivia game. Sort of like the old American game show Name That Tune. The format: everyone is assigned to about 10 teams of 6, and music snippets are played according to various categories(Oldies, 70's, 80's, etc), about a dozen or two songs per category. Scores are tallied between rounds/categories, with points awarded for correct answers on song titles and artists. The 20-30 minute breaks between rounds for scoring let everyone get up to drink, eat, pee, socialize, and dance to the songs from the previous round. Things definitely got more rowdy as the booze kicked in and the songs became increasingly familiar.

The thing that made the game especially interesting was that guests kicked in Baht 500 (~US$12.50) a piece, part of it to defray the costs of the soiree, and the rest going to cash prizes for the top 3 teams. Americans + games + cash prizes + a whole lotta silly sauce = trash talking (especially between spouses, who were placed into seperate teams) and team names like "Get the Funk Out of Here", "Super Freaks", and "Stiff Nipples", the last one being my wife's team, whose captain would taunt my team (which included said fellow's wife) by seductively rubbing his stiff nipples (he was, however, unsuccessful at getting Nicha and the other teammates to follow suit). I was a bit worried at the begining of the evening, because Nicha, in her shark-like ruthless competitiveness, had been telling our hosts that the Arks would cash in big time, relying on my superior knowledge of music and prowess at music trivia games (note: Paul's prior music trivia game experience = zero). Everytime our host would introduce us to his friends, we got replies of "So this is the guy you told me about? Ok, he's on our team!" The unfortunate side effect of all of this is that I needed to down some drinks quickly to deal with the huge burden placed on these fragile shoulders (not that I really need any excuse to drink), and people started ignoring Nicha & her completely non-existant music trivia skills, much to her consternation.

I did feel a lot better at being able to make some modest contributions early on (those 4 Heinekens helped, really they did!), but it was when the category turned to the 80s that I really began to shine. It really helped that I was a die hard 80s music freak, and after that round, we found our team had advanced from 2nd-to-last to tied-for-1st. What was merely a jovial good time had now become a potentially profitable enterprise. My teammates could smell blood and money, and things from then on became serious business (again, as serious as a bunch of drunken rowdies can be on a Saturday night in Bangkok). They began plying me with beer, Coke, M&Ms, anything they thought would help stimulate my inebriated and rapidly deteriorating brain cells (all two of them!).

Ultimately, we finished 2nd, but the kicker was that Nicha's team finished 3rd. Our total haul: Baht 2,300 (~US$57.50) on a Baht 1,000 investment. Not bad at all. We hung out a bit longer, but decided to be one of the retiring early birds, not that I'd call 2 am all that early. We had to get home though, since Nicha had to pack for a flight to Singapore, and I wanted to catch a 3 am broadcast of the Cal vs. Oregon State game. In a nutshell: Cal delivers a 49-7 bitchslapping to the Beavers, and earning it a #7 national ranking, its highest since 1991 and setting up this monumental match-up that I'm willing to inflict significant damage upon my health for. [Shit. USC field goal puts them up 10-0].

Nicha's company was sending her back down to Singapore for another 4 days of training. Though the first several years of our relationship was a long distance one in which we would go on for months on end without seeing each other, we grown accustomed to being with each other, so much so that any time apart beyond a work day is hard on both of us. I suppose with my expected travel schedule, it's good that we get used to being apart for a few days at a time. [Cal puts up 3 onto the board. About goddam time]. The big consolation, however, was the eagerly anticipated shopping opportunity. Nicha was dying to get another crack at Singapore's much vaunted Orchard Road and its iconic Takashimaya Department Store, and I had a ready made shopping list of goodies for the Border's Bookstore and Apple Store.


Let me preface the next part by saying that there is no greater joy for me in life than to be with my wife. She's the light of my life, the peanut butter to my jelly. That said, I was sooooooo excited to get my new goodies, namely a kick-ass 4th generation 20GB iPod. Yeah, baby! The thing is friggin' half the thickness of my pokey 1st-gen device! Ain't technology amazing?!? Me so happy!!! [TOUCHDOWN BEARS!!! About time! Score: Trojans 13, Bears 10]. Additionally, she brought back the bad boy you see on the right: the Altec Lansing inMotion iM3 portable speaker system. Did I mention how much I love my wife?

She also brought back a book I've been dying to get ahold of for the past few weeks: "America (The Book): A Citizen's Guide to Democracy Inaction" by Jon Stewart and the writers of the Daily Show. I won't go into too much detail, but after a few chapters, I can tell you it is one of the wittiest, funniest, quintessential shits-&-giggles (literally, since I read it on the toilet =) books I've read in a long time. The same wry, sarcastic, biting but incredibly intelligent writing I've come to expect from the Daily Show crew, much like the stuff you see coming from the writers of The Onion. Read it; it's good stuff.

[Another Trojan field goal put them up 16-10 going into half time]

I could go into work, telling you how well the job is going, but my brain is fried. So I'll keep it short: busy, but having a good time. Gonna go get me some grape juice... posted by someone bearing a striking resemblance to Paul | 4:18 AM |
---