Monday, June 27, 2005 Just passed througth the airport duty-free shop about 10 minutes ago and picked up this little beauty.




Me so happy =) posted by someone bearing a striking resemblance to Paul | 9:56 AM |
---


Thursday, June 23, 2005

Anissa believes a successful party also has to have two L's: Ladies and liquor. "The perception is that international girls are automatically pretty good looking. For example, ABAC [Assumption Business Administration College] girls have a reputation of being pretty, well known and aggressive - so you invite them, and of course the guys follow," she said.



Nicha and I were having dinner with our friends Ami & Nueng last Friday when Ami mentioned that my friend Pippa had recently been quoted in the Bangkok Post (reprinted here) saying that (as Ami paraphrased it) "ABAC girls are easy." Nicha, being a graduate of ABAC from the Class of 1995, was rather indignant, and I came dangerously close to choking on my food through fits of laughter. But now that we look at the actual quote, it's hard to deny that Nicha is anything but pretty, well known, and

frighteningly

aggressive. Good call, Pip =) posted by someone bearing a striking resemblance to Paul | 10:17 PM |
---
Four years ago today, Nicha and I got engaged (that's her showing off the engagement ring afterwards). You can read about the highlights of our courtship here.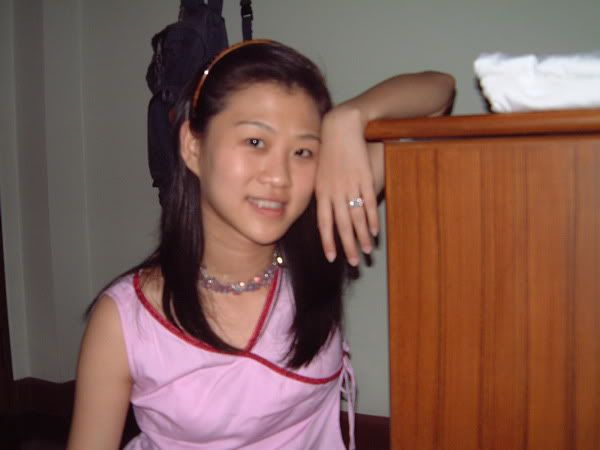 posted by someone bearing a striking resemblance to Paul | 2:51 PM |
---


Wednesday, June 22, 2005 This is amusing. I was tracking web traffic leading to this little inconsequential blog, and among the typical assortment of links from friends and brothers and searches for bizarre pictures and fetishes, I came across a new one: The College Football Resource, a page dedicated to college football. Their links pages includes one for blog sites dedicated to Pac-10 football, and based on my raving lunatic, frothing-at-the-mouth blatherings for four months of the year, the site was kind (misguided?) enough to add me as one of the two sites covering Cal Football. =)

Oh, yeah: GO BEARS! posted by someone bearing a striking resemblance to Paul | 1:22 PM |
---


Tuesday, June 21, 2005 Separated at birth?




Nicha is my lovely wife. Saddam Hussein is the deposed President of Iraq, and a rather scruffy-looking deposed President of Iraq at that. There are no two people on earth as different as these two.

Or so I thought.

Just consider these similarities, based on recent anecdotes:

1. Nicha loves Cheetos. Until they were supplanted by Doritos, Cheetos were Saddam's favorite prison snack food. ("Doritos: Saddam's Choice." Ok, so a copywriter I'm not)

2. Saddam has been described as a "neat freak". Nicha is the Asian Monica Gellar.

3. Saddam loves Raisin Bran. Nicha loves Banana Nut Crunch. I think both may be combatting irregularity through high fiber Post cereal diets.

4. Both are obssessive about wiping down plates & eating utensils before their meal. Neither eat beef.

5. Neither seem to really care for Bushes Senior and Junior ("The Bush father, son, no good." I can't remember who said that first)

6. Neither appear to have weapons of mass destruction (though in all fairness, Nicha never chemically-gassed the Kurds).

Any day now, I expect that American forces will attempt to topple the statue of my wife that we erected in the guest bedroom. posted by someone bearing a striking resemblance to Paul | 5:22 PM |
---


Monday, June 20, 2005 I really

really

enjoy this guy's political cartoons.


posted by someone bearing a striking resemblance to Paul | 10:04 PM |
---
Being the self-righteous snot that I am, I don't normally pay heed to "hardened sleaze-hounds" who prowl the Patpong pussy shows, but a well-written, biting blog always gets my respect and a few of my laughs to boot. posted by someone bearing a striking resemblance to Paul | 4:44 PM |
---
Since Nicha is currently out of work, I guess this is as good a time as any to annouce that she's taking a new job.

She had great year at ABN Amro, and her boss fought tooth & nail to get her a huge raise and promotion after corporate skimped on her annual bonus. Though another bank pursued her vigorously to join them after her bonus fiasco, Nicha was committed to staying with her boss, who she views as both a big brother and mentor. That is, until Standard Chartered came calling.

Like the other bank who came headhunting, StanChart was very aggressive in trying to recruit Nicha (one of ABN's regional heads had moved over to SC, and insisted that they poach Nicha), but again, Nicha felt obligated to her boss given the effort he had put into getting her the raise & promotion.

After several weeks, SC made a last-ditch play: they invited Nicha down to Singapore for a day to meet with executives and observe their trading floor/platform. And then they pulled out their atomic bomb: they offered her the head of her own desk, and a fat bonus guarantee. After that, Nicha was torn between her loyalty to her boss and the phenomenal opportunity offered her. Though her boss was desperate to keep her (a situation exacerbated by the fact that another member of her team resigned from ABN on the same day), everyone agrees that the offer is just too hard to pass up, and that she is stepping into a high profile role with a tremendous amount of responsibility. So starting in July, Nicha will become SC Thailand's Head of Corporate Sales responsible for selling foreign exchange options and interest rate derivatives to major Thai corporate clients, reporting to both the regional derivative head in Singapore and the treasurer in Thailand.

Amusingly enough, Nicha wanted to keep a very low profile about her move, but within minutes of signing the employment contract, StanChart annouced the news to all their traders and salespeople on Thailand, who then proceeded to spread the news among their industry peers and clients. For the remainder of the day and much of the past week, Nicha fielded calls from friends, collagues, and clients who were shocked and pleased to hear the news.

Congrats, babe! posted by someone bearing a striking resemblance to Paul | 11:53 AM |
---
Saturday, June 25th seems to be quite an auspicious day for weddings & receptions. Nicha and I already have plans to attend two wedding receptions down in Singapore that day (unfortunately having to split time between the both of them), one for her friend Lisa from her company, and the other for my RBJ friends TVpoison and Longecho (not their real names, in case you haven't figured that out!). Nicha's friend Meng has to bow out of Lisa's wedding since he's attending another wedding reception that night.

On top of that, Nicha and I just received yet another wedding invitation for that very same night in Bangkok from Simon, a very good friend ours who, as it turns out, never let on that he was seriously dating this girl, much less about to get married! Though Simon is in our close circle of friends (despite the fact that we had no idea he was getting hitched =P), the annoying Thai habit of inviting people pretty much at the last minute combined with the fact that Nicha and I have special non-refundable air rates to Singapore means that we'll have to settle for dinner with Simon and his bride at some later date in the future.

Anyone care to enlighten me on the significance of the 25th, if any? posted by someone bearing a striking resemblance to Paul | 11:29 AM |
---


Monday, June 13, 2005 Time Travel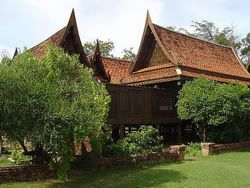 I often struggle with the decision of where to take friends and visitors who come to Bangkok, especially those who have been to Thailand before and have seen all the standard tourist fare that Lonely Planet has to offer. Frankly, I can't stomach too many more visits to the Grand Palace or any of the dozens of temples scattered around the Chao Phraya River.

I also have difficulty generating any enthusiasm to venture out on the weekends, since I would probably have an easier time counting motorcycle taxis on Sukhumvit than I would the number of times I've hung out at a Central shopping center or the Weekend Market.

As much as I enjoy living in Bangkok, its become almost depressing to see how few stimulating, engaging diversions there are in Bangkok's environs that don't require half the day to get to.

That changed on Saturday when I visited Samut Prakan's Ancient City.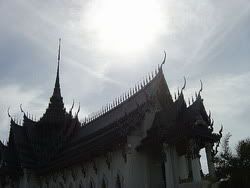 Over the weekend, my company held a Family Day for its management & their families at Muang Boran (The Ancient City) in Samut Prakan. While not exactly in Bangkok proper, Samut Prakan is close enough to Bangkok's outskirts that you can get there in less time than it would take to get a few blocks on Sukhumvit in Friday night traffic.

The Ancient City can best be described as a cultural theme park with a smattering of petting zoo thrown in for good measure. The park features stunningly hyper-realistic recreations of ancient temples, homes and other works of architecture, organized around the park according to geographic region. When my wife tried to describe Muang Boran to me, I immediately pictured the faux simulacrums of Legoland or Las Vegas' New York, New York. Instead, I saw temples re-created with such meticulous care and authenticity that they weren't so much copies of art as they were masterpieces themselves. One temple was a recreation of one destroyed by the Burmese in some ancient battle, and was designed after consulting as many historical texts and ancient letters describing the original temple as could be found to ensure maximum accuracy (and was in fact used by the King of Thailand to receive England's Queen Elizabeth during one of her past visits).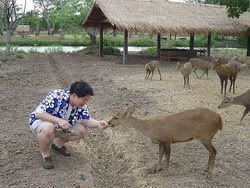 What was truly amazing is that it is one of the few attractions in Thailand that strives to be cultural and educational rather than commercial. My wife told me that the land and money for construction had been provided by the tycoon who made his fortune importing and assembling Mercedes Benz autos in Thailand, and that the Ancient City was a labor of love, resulting from the donor's deep passion for history and architecture (he also founded the Erawan Museum, just up the street from the Ancient City. He was also reputed to have spent his last years living in one of the park's recreated traditional homes).

There were no huge throng of tourists, no cheesy souvenir stands, no McDonalds or Starbucks. Just lush green grass, a small river, over 160 buildings and structures, and even herds of deer (the founder also loved animals) that guests are invited to feed bananas (for a donation, and not for some over-inflated sales price). It was a bloody sanctuary, a welcome respite from Bangkok's hustle & bustle. How I've never heard of this place before is beyond me, but I would have no problems if it remained the best kept secret in Bangkok. The wife and I plan on visiting again, inviting friends, renting bicycles, and picnicking on the grass. posted by someone bearing a striking resemblance to Paul | 3:17 PM |
---


Friday, June 03, 2005 I'm beginning to worry that if and when Nicha and I have a kid, I'll make a really shitty dad.

Why do I think that? Well, for the past 6 months, I've been a monthly sponsor of two children through Save the Children. One is a 7-year old girl from the Philippines, and the other is a 9-year old boy from Bangladesh. Though they send me regular letters and drawings, I have yet to write them back. No pictures, no letters, nada, zip, zilch, goose egg. Hell, I even let their birthdays pass without a token gift or note. I may not be a dead-beat sponsor since they still benefit from my monthly contribution, but they otherwise get no attention or affection from me. I like to tell myself that I'm a mysterious benefactor, but in reality, I'm a lazy, neglectful, asshole sponsor. I think I will write a pair of letters today. posted by someone bearing a striking resemblance to Paul | 10:47 AM |
---