Sunday, July 31, 2005 I've decided to avoid doing work on this Sunday afternoon in order to post some random updates on me and my life, for the benefit of friends and family who visit this blog to hear more than just me ranting on about Cal Football or some bizarre article I found trolling the Internet.



Work



Few complaints here. Having a great time working in the retail biz, though a bit concerned that I have yet to close any headline-grabbing M&A deals yet. I guess I'm gonna have to work extra-hard to make sure that my year 2 is a busy blockbuster of a year.

While my career is pushing forward nicely, Nicha's career is going absolute gangbusters. After being hounded by several major international money center banks, she finally got poached by one that made her an offer she couldn't refuse: the chance to head her own desk. As Head of Corporate Sales, she is in charge of marketing foreign exchange options and interest rate derivatives to Thailand's marquee corporate clients, which in a nutshell means getting to meet big shots and going to nice dinners. I'm hoping she has a great year and makes an obscene bonus so I can quit my job, be a house husband, and play X-Box all day. And maybe monkeys will fly out of my butt; stranger things

have

happened.



Family



No kids yet, so stop asking! Actually, now that it looks like neither Nicha nor I will be switching jobs anytime soon, we think this might be a good time to start squuezing out a few brats, since I'm pushing 35 and I can feel my ovaries shrivelling.

It seems like lately a lot of my friends are either 1) getting married, and unfortunatly telling me at the last minute (maybe they don't want me at the wedding, but are too polite to not invite me? Things that make you go hmmmmm.....), or 2) working on their 2nd babies. No point in any of this; just thought I'd mention it.

The rest of the family is doing well, and the next generation of Arks are getting cuter with each passing day:

(Photo: Pete's daughter Sydney's transformation into the Incredible Hulkling. You wouldn't like her when she's angry)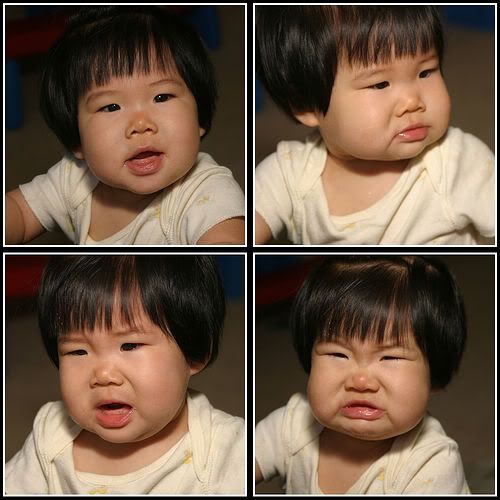 (Photo: Pete's daughter Jessica admires her handiwork after her evening teeth brushing)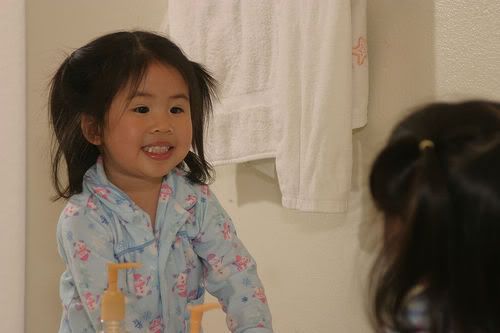 (Photo: Don's adorable twin girls, Vanessa & Natalie. Nessie is the perpetually happy one, while Nat always looks curious and wide-eyed)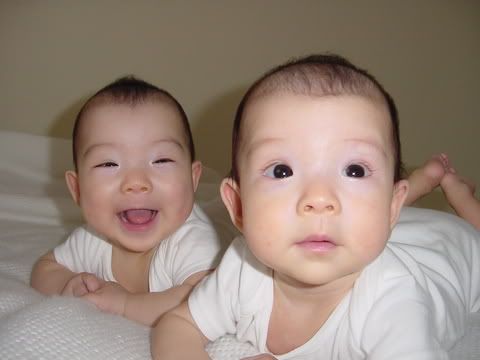 (Photo: Don's boy Jadon is enjoying an Easter Egg hunt)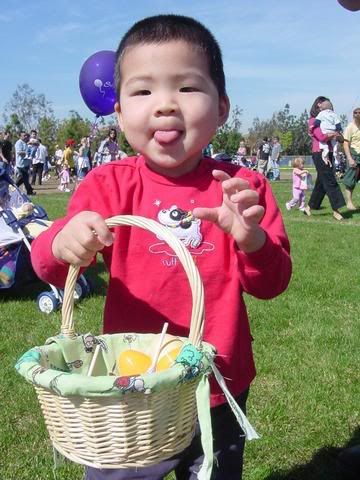 Play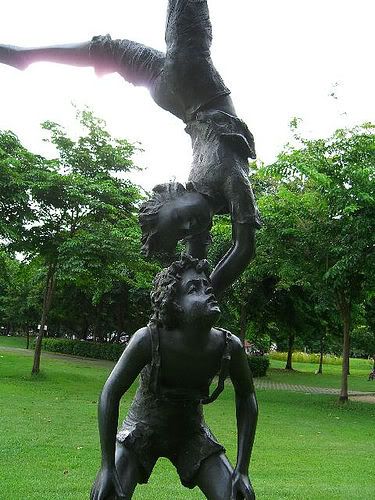 Nicha and I pretty much low-key homebodies, which basically means we don't get out much. We spend more than our fair share in the shopping malls and we do like to treat ourselves to nice meals, but we ain't pub & party people, which means it takes something special for us to drag our asses out of the comforts of our couch.

Since the early days of my return to Thailand, my friend Ami has been telling me about Suan Rot Fai, or Railway Park, so named because the former golf-course-turned-public-park is on land owned by the state railway authority. I never got around to checking it out, but Nicha went there a few weeks ago with her family and loved it. So last weekend, we met up with Ami and his wife Neung to rent a few bikes and make a few laps around the park. Awesome! It was crowded as hell, but seeing so much lush green was a pure joy; a true oasis in an urban pit. After Nicha and I spent some time at Singapore's East Coast Park, I had a major urge to buy a pair of rollerblades; a few days after visiting Suan Rot Fai, I went out to buy a pair. I can't think of a better way to spend an afternoon blading around such a huge park, especially since the bike we rented were so crappy; can't expect much from a Baht 20 (US$0.50) rental though.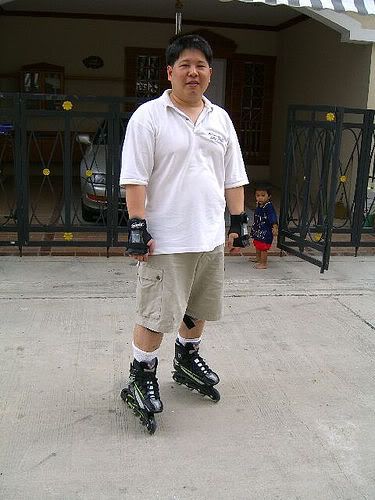 One problem: I haven't been on rollerblades since my senior year in college. 13 years ago. And that was my first and only time. Tried them out this weekend, twice. Legs are sore, and I was not unlike a wobbly newborn deer, if you picture a wobbly newborn deer liquored up on one too many tequila poppers. But I did not eat concrete a single time, and managed to pick up a bit of speed during my 2 hours of practice. Not bad if I do say so myself. A few more days, and I'll be ready to enter the X-Games.



Cool stuff



I guess you could say I'm going through a weird version of a mid-life crisis, minus the marital infidelity and cool sports car. But I am trying to re-capture my youth (via the rollerblading. Sore! Ouch!), and I have been spending my money to buy cool toys that I want. Last year it was the iPod , PDA, and new laptop. This year it's been a new cellphone, digital camera, and rollerblades. I haven't been the only pack rat either; I think Nicha is on a quest to acquire every model of handbag that Coach has to offer, at the expense of me acquiring a really kick-ass plasma screen television. There are moments that we experience pangs of guilt at our hedonistic, materialistic ways, but then we remind ourselves that after 2 years of working like dogs without a vacation, we actually like to buy nice stuff. So now that we've rationalized our crass borgeois ways, our latest acquisition: his & hers Longines Evidenza watches.



I've been meaning to get another watch for sometime now. The Tag Heuer that I bought 5 years ago still works great, but after wearing the same watch every single day, I thought it was time to mix things up a bit. Last night, Nicha and I were at the mall to get some furniture for the house, and since Central Department Store is in the middle of a big watch sale, I wanted to see if there was anything I liked, not expecting to open my wallet so close to closing. Instead, Nicha and I walk out with a pair. It worked out nicely, since I wanted something that didn't make me look like an effeminate twat when I wore it, and Nicha wanted something that would appreciate in value on the second hand watch market. So now we got a pair of investments hanging on our wrists. Better make sure I take it off when I go rollerblading... posted by someone bearing a striking resemblance to Paul | 5:27 PM |
---


Saturday, July 16, 2005 Bruce Campbell is keeping it real. I highlighted his last quote, which is the best.
____________________________________

Bruce Campbell Rips Hollywood

July 14, 2005 - Complaining that Hollywood is "creatively bankrupt," fan favorite Bruce Campbell ripped into the studio system and the recent spate of summer blockbusters at today's Comic-Con Q&A session. The cult actor cycled through the films that came out this summer and deconstructed each one.

"First of all, every A-movie is a now a B-movie," he said. Any movie that relies on costumes and aliens falls into the latter category, according to Campbell. Speaking about War of the Worlds, he complained that the idea was tired, stating that "every 50 years they do something with that idea."

On Batman Begins, he said "Well, this was a good one. It took 'em five tries." On Bewitched he simply said, "Hollywood has a file drawer 30 years deep." Later in the presentation, he added "I urge you not to support the same horsesh*t you're getting out of Hollywood." Then, tongue firmly in cheek, he added, "Except Sky High," which he appears in.

He didn't hold back comments about other member of the acting fraternity. When asked about Tom Cruise and Katie Holmes, he said "Well, I can guarantee that I don't give a rat's ass about them." He repeatedly jabbed at Ashton Kutcher, joking that the actor would reprise his role in the Evil Dead remake. He even called out Ben Affleck more than once, stating "…William Holden can kick Ben Affleck's ass any day of the week."

But his special affection was reserved for the MPAA, which he referred to as "stupid" and "embarrassing." "The MPAA can kiss my ass so hard it can come out the other side." He has no love for network censors, either. He stated that it was wrong that violence is much more acceptable than nudity on television.

"You can shoot a boobie, but you can't kiss it."


posted by someone bearing a striking resemblance to Paul | 1:53 PM |
---


Wednesday, July 13, 2005 With only 52 days to go before Cal kicks off against Sac State, I'm starting to get that college football itch. Having lost so many seniors, it will be interesting to see what Tedford does with the team, and if the Bears can sustain the momentum the team has worked hard to build up over the last few seasons. I want to get really amped and excited, but given the Cardiac Kids' record over the past decade, I'm gonna stay cautiously optimistic. Rome wasn't built in a day, and neither are football powerhouses.

Here's an excellent synopsis and fair assessment of Cal's prospects this season, courtesy of SI.

52 days....
_________________________________________


CALIFORNIA

The worries are different around Strawberry Canyon these days. Fans once fretted over having more wins than losses, whether the coach would be around the next season and by how many points they would be stomped by traditional rival Stanford.

Since Jeff Tedford took over, the worries are of a different variety. Can Cal be a BCS bowl team in 2005? Will Tedford be lured away by another program or an NFL team? And how badly will the Bears beat Stanford in the Big Game?

Indeed, expectations are high coming off a 10-2 season that ended in deflating fashion when Cal was squashed by Texas Tech in the Holiday Bowl. Tedford became a wealthy man by signing a contract extension that runs through the '09 season. The official announcement came down that Cal is going to renovate aging Memorial Stadium.

And while the long-term health of the program has never been better, the '05 Golden Bears figure to take half a step back. Cal will be without quarterback Aaron Rodgers, tailback J.J. Arrington, All-America defensive end Ryan Riddle and a host of other key contributors.

"This is a different team," Tedford said. "We lost 26 guys from last year's team and a lot of them were seniors. We're going to make mistakes."

OFFENSE
Tedford's most imposing project will be turning junior college transfer Joseph Ayoob into another Rodgers. Ayoob blossomed at City College of San Francisco, where he was considered one of the top junior college recruits in the country. The starting job, however, wasn't handed to him during spring practice. He must first beat out redshirt freshman Nate Longshore, who isn't as quick on his feet as Ayoob, but is an adept passer with a big arm.

"We have two guys who we know can run the team," Tedford said. "I probably won't make a decision about the starter until the week of our first game."

As a true freshman, tailback Marshawn Lynch averaged 8.8 yards per carry as Arrington's backup. Now, the question becomes, can he be that productive as the Bears' featured back?

The receiving corps was wiped out by graduation. Sophomore Robert Jordan is the only returning player with any significant experience -- he caught 29 passes for 332 yards last season.

Former Parade All-American Lavelle Hawkins, who transferred to Cal from City College of San Francisco, and incoming Parade All-American DeSean Jackson, the Bears' top recruit, should make an immediate impact at wide receiver.

Cal's offensive line, which could be the most talented unit on the team, features four returning starters, including All-America center Marvin Philip. Philip and right tackle Ryan O'Callaghan, both seniors, were first-team All-Pac-10 selections last season.

DEFENSE
Defensive end Nu'u Tafisi recorded 16 sacks last season en route to earning All-America honors at Mt. San Antonio (Calif.) Junior College. He will be asked to step in for Riddle, who was sensational as a senior for the underrated Cal defense.

"Tafisi has the talent," Tedford said. "It's a matter of the learning curve. He has to get used to the speed of the game and the transition from junior college."

Part-time starter Ryan Foltz is the only returning linebacker on a unit that was wiped out by graduation. Tedford will attempt to patch the holes by adding junior college All-Americans Desmond Bishop and Mickey Pimentel. Redshirt freshman Worrell Williams, the half-brother of former Miami star D.J. Williams, will also fight for a starting spot.

In the secondary, the Bears return rover Donnie McCleskey and cornerbacks Harrison Smith, Daymeion Hughes and Tim Mixon. McCleskey was an All-Pac-10 selection. posted by someone bearing a striking resemblance to Paul | 11:13 AM |
---


Monday, July 11, 2005 There is a new man in Nicha's life.

A dark, handsome stranger. Tough & rugged, yet deep & sensitive. He speaks little, but his large eyes are wells of emotion. He's playful, energetic, affectionate, uninhibited. His smile melts Nicha's heart. Who is this rival for Nicha's love and attention?


He is Nong Bank, the 18-month old boy whose parents are part of the construction crew working on the interiors of one of the houses on our street. His family is living on site during the course of the project, so our street is his domain.

Nicha has opened our home to him, and he has turned our kitchen into a playground-slash-wonderland of exploration. He is curious, loving to explore the drawers and cabinets and closets and knick-knacks that abound. He is tough, often smacking his head opening a cabinet or slamming his fingers as he closes them, crying sometimes as a long as 2 seconds before shrugging it off before exploring the next drawer. He is a man of few words, choosing his words ("hai", "mah", "blah") wisely. His limited vocabulary is composed of actual Thai words, though he does tend to grossly misuse them, with 80% the objects he points to apparently being a "mai".

He also runs around naked and regularly pees on our floor. Now how am I supposed to compete with manliness like that? posted by someone bearing a striking resemblance to Paul | 9:20 PM |
---


Thursday, July 07, 2005 Perhaps for the first time ever, I clicked on a banner ad. There it was, at the top of CNN.com, an advertisement for upcoming PBS special for "Gun, Germs & Steel", based on Jared Diamond's book tracing the 13,000-year history of human civilization. I read this book when it first came out in 1997, and it remains one of the most fascinating books of non-fiction or history I have ever read. Now if I can just find a way to get ahold of the episodes... posted by someone bearing a striking resemblance to Paul | 5:57 PM |
---


Wednesday, July 06, 2005 The funny thing is, up until about a week before it happened, I had no idea what the hell Live 8 was. But now that it's over, it seems like every other item I come across in the international news is Live 8 this and Live 8 that. After the myriad of uber-hyped, post-9/11 benefit concerts, you'd figure the masses would be jaded by these star-studded glam-fests by past-their-prime rock stars trying to recapture some of their former glory (I completely exempt from this rant Pink Floyd, which I would have given my left nut to have seen live).

I tip my hat (or would, if I were wearing one) to Mr. Goldberg and his big "Shut the fuck up" to Mr. Geldorf and every self-important performer who puts too much stock in the power of a few top 40 hits to change the world.

_______________________________

"We Care!"
Grace on the cheap.
by Jonah Goldberg, National Review
July 06, 2005, 8:09 a.m.

According to Bob Geldof, two billion people watched his snazzy Live8 concert thingamajig. Therefore, he declared, "It's now for the leaders to act." He also added, "Now feel the force of the gale that's hit you." At the top of Geldof's gale-force demands: debt relief for African nations.

O.K., so here's what I'm confused about. People watched a concert, which was chockablock with acts supposedly popular with the young 'uns and old 'uns alike. From Snoop Dogg, Will Smith, and Coldplay to the more aged likes of Madonna, Sting, and Bono. There were even a few troubadours with last names (or at least two first names), such as Elton John.

And the spectacle was impressive, so much so that Chris Martin of Coldplay declared it "the greatest thing that's ever been organized probably in the history of the world." (You've heard of the Normandy invasion, the Manhattan Project, the Marshall Plan, various moon landings, the 2,000-year-old Catholic Church? Impromptu flea markets! We've got a major-league telecast here.) Passing over Martin's slight overstatement, no harm will come from conceding that it was a very nice concert for those interested in such things.

But tell me, how exactly was Live8 a monumental demonstration of support for helping Africa?

Perhaps we could organize an ice-cream and candy giveaway at the local mall to show that children are against the deficit? Anyone who shows up is for raising taxes. Or, hey — and I'm just thinking out loud now — maybe Madonna could invite everybody to show their concern about global warming by coming to her mansion (pick one) and helping themselves to whatever's in her fridge.

You see my point? Presumably this was a concert most of the attendees wanted to go to anyway. To say that two billion people favor debt relief for Africa is akin to saying that everyone who watches Desperate Housewives is pro-choice because the producers are.

You may be wondering how much money this intercontinental jam session raised for the sick and dying of Africa. Alas, not a farthing. Sir Bob Geldof was very explicit about this point. Live8 was intended to raise consciousness and exert political pressure on the G8 summiteers. No one was allowed to actually raise money for the masses of starving people in Africa. None of the dollars spent on the concert by fans, corporate sponsors, or television networks will reach Africa. Charities couldn't rattle tin cups outside the porta-potties and concession stands. This was solely an effort to prod the West to get behind the slogan, "Make Poverty History."

Nice line. But, uh, how? I'm sure Geldof, Bono, and a few others have some ideas worth listening to. But I somehow doubt the Madonna and Snoop Dogg fans in the audience had formed a particularly cogent consensus on how to "Make Poverty History." In fact, I doubt you could get even a fraction of them to agree on a recipe for apple brown betty.

Very smart people have been trying really, really hard to make poverty history for a long time. Heck, they've been working very hard to make Africa just ever-so-slightly less hellish for a very long time. Debt relief is probably part of a potential solution, but without ending Africa's tendency to produce horrible, greedy dictatorships, debt relief is more akin to paying off a drug addict's credit cards.

Even if the concert goers were speaking with a single voice, they weren't saying anything of much use, except "we care" — and aren't we special people for it? Geldof summed up the attitude perfectly when he said, "Something must be done, even if it doesn't work."

This concert was an exercise in boosting the self-esteem of the audience. Included in the ticket price was grace on the cheap. t-shirts cost extra. Live8 was an appeal to the vanity of people who collectively aren't concerned enough about Africa to watch a classical music concert.

Geldof's heart is in the right place, I'm sure. But what he really did was successfully bribe a bunch of people to be props in a publicity stunt. And I somehow suspect that the G8 leaders do feel the force of the gale that's hit them — and it feels a lot like a gust of hot air. posted by someone bearing a striking resemblance to Paul | 11:32 PM |
---


Monday, July 04, 2005 For Independence Day, I wanted to say something pithy and insightful and perhaps even a bit witty and clever to commemorate occasion. But why spend my time doing that when this guy's 4th of July blog already rocks?

I wouldn't have minded having a day off to have a BBQ and watch some fireworks. It's fine doing without the BBQ, since the wife and I had BBQ chicken and ribs yesterday at Tony Roma's. And fireworks I can do without, since Bangkok seems to have them pracitically every other night for some inexplicable reason.

But I could have really used a long weekend. posted by someone bearing a striking resemblance to Paul | 9:03 PM |
---


Friday, July 01, 2005 I think in Oakland, the word "sweetheart" is supposed to translate into English as "total douchebag". Instead of jailing the asswipes who ran over the guy trying to stand up for his friend, they should be tied up and used as tackling dummies for Cal's offensive line for the rest of the season. Maybe even let special teams practice their punts on their nutsacks.
___________________________________________

Samaritan has his leg broken
Cal athlete run over by men annoying a female friend
Thursday, June 30, 2005


When a group of men in a car tried to pick up a friend of Cal football player Mike Tepper on Berkeley's Telegraph Avenue over the weekend, the 6-foot-6., 312-pound lineman jumped between the car and the woman.

After Tepper, 19, told them to leave her alone, the men allegedly put their car in reverse and ran over the player -- twice -- breaking his leg and putting him out for the football season. Now, two convicted felons from Oakland are in custody, and Tepper is contemplating his future, wondering why he was attacked for simply trying to help a woman.

"My season's toast," Tepper said Wednesday as he recuperated from surgery to repair a broken fibula and torn ligaments in his ankle. He had nine screws and one plate put in his leg and can't put any pressure on it for eight weeks.

Cal football coach Jeff Tedford said he was "proud of the courage Mike showed Saturday night. ... He is a quality young man. We expect him to make solid contributions for us."

The incident happened at about 1 a.m. Sunday at Telegraph Avenue and Dwight Way, four blocks from UC Berkeley. Tepper and three friends, including the woman, were crossing the street when a carload of young men stopped.

One of them said something like, "Hey, honey, what you doin'?" to Camille Leffall, 22, a UC Berkeley senior and asked for her number, Tepper said.

Leffall ignored the apparent come-on, but the men cut the group off with their car. "I don't think you heard me," one of the men said. "I want your number."

"They were being complete butt-heads," said Leffall, who was a star Cal women's volleyball player.

At that point, Tepper told the man that she wasn't interested and stepped in front of her. That's when the car bumped Leffall, and Tepper fell on top of her to "get me out of danger," she said. But the car ran over his leg and sent him flying about 8 feet, he said.

"They did it on purpose, no ifs, ands or buts," Leffall said.

Then the car came forward and ran over Tepper's leg again, he said.

"I was bleeding like crazy. It took about an hour to stop the bleeding," said Tepper, a graduate of Pacifica High School in Garden Grove (Orange County) whose hometown is in nearby Cypress.

Leffall said of Tepper, "He really lessened the injury to me. I'm really thankful. It was honorable. He didn't have to come up and just stand up for me. "

The assailants crashed into a parked car. Berkeley police arrested Johnny Ray Smith, 33, and Calvin Joe Kelley, 29, for violating terms of their probation or parole, authorities said. Officers also arrested a third man, but prosecutors declined to file charges against him because of lack of evidence.

Berkeley police are handling the incident as an assault with a deadly weapon. No charges related to the incident have been filed, but prosecutors can do that later while the suspects are being held for parole or probation violations.

Both men are well known to local police, court records show.

Kelley was convicted in 2003 of selling marijuana to an undercover police officer at People's Park. In June 2004, police found "seven dime bags in his underwear" at a Telegraph Avenue market, records show.

"Kelley has been a nuisance in the south campus area as it appears he is conducting his illegal drug trade" in the blocks south of UC Berkeley, Berkeley police Officer Richard Marin wrote in a police report.

Kelley's 16-year-old niece, who didn't want her name used, was surprised by the new allegations against him and said she knew nothing of his drug conviction. "My uncle's not like that," she said. "He's a sweetheart."

In November 2003, Smith fled after being caught by residents trying to steal two car stereos and two amplifiers from a home on the 2700 block of Durant Avenue, court records show. He pleaded no contest to first-degree residential burglary and was sentenced to 16 months in prison for a probation violation.

Smith has convictions dating back to 1991 for possession of stolen property, a weapon and marijuana for sale.

Tepper, meanwhile, said he didn't think he would do anything different if he found himself in the same situation again.

"I don't think so," he said. "It just happened. The whole thing only took 7 to 10 seconds. I just did what was natural. I didn't think about being a hero or anything." posted by someone bearing a striking resemblance to Paul | 10:58 AM |
---